Tilzolan® (tiletamine HCl and zolazepam HCl)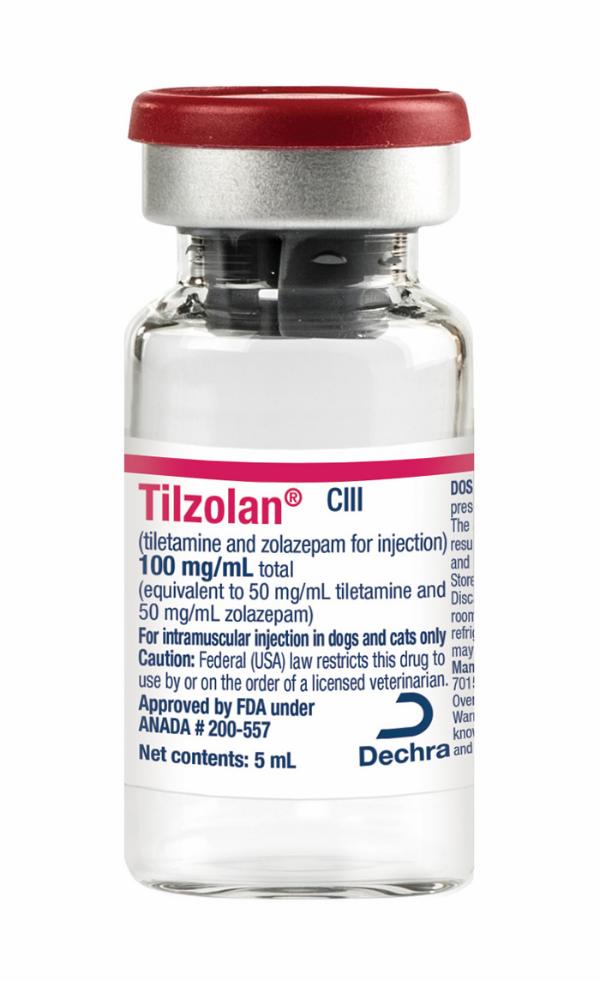 Tilzolan is indicated in cats for restraint or for anesthesia combined with muscle relaxation and in dogs for restraint and minor procedures of short duration (30 min. avg.) requiring mild to moderate analgesia. Minor surgery is considered to be laceration repair, draining of abscesses, castrations and other procedures requiring mild to moderate analgesia. Tilzolan provides 50 mg tiletamine base, 50 mg zolazepam base per mL when reconstituted (100 mg/mL combined). It is available in 5 mL vials.
Important safety information
Federal law restricts this drug to use by or on the order of a licensed veterinarian. As with all drugs, side effects may occur. Tilzolan should not be used in dogs and cats with pancreatic disease, renal pathology or impairment of renal function, or severe cardiac or pulmonary dysfunction. Do not use at any stage of pregnancy or for Caesarean section. Do not use phenothiazine-derivative drugs concomitantly with Tilzolan as the combination produces respiratory and myocardial depression, hypotension, and hypothermia. Pulmonary edema has been reported in cats. Respiratory depression may occur following administration of high doses of Tilzolan. Copious salivation may occur during Tilzolan anesthesia and may be controlled by giving atropine sulfate, USP as a concurrent medication. Vomiting upon emergence, involuntary muscle twitching and cardiac arrest have occasionally been reported with Tilzolan. Refer to the prescribing information for compete details.
Other Anesthetics or Analgesics
Dexmedesed® (dexmedetomidine hydrochloride) Sterile Injectable Solution
Ketamine Hydrochloride Injection