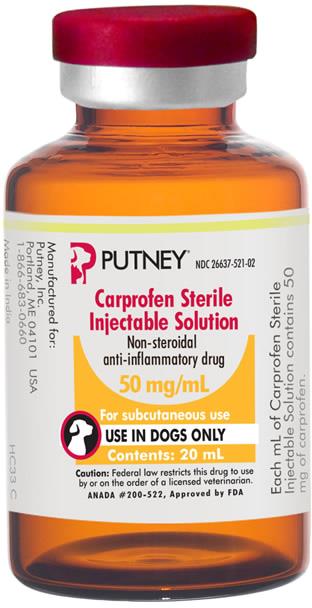 For use in dogs:
Carprofen Sterile Injectable Solution is indicated for the relief of pain and inflammation associated with osteoarthritis and for the control of postoperative pain associated with soft tissue and orthopedic surgeries in dogs. Carprofen Sterile Injectable Solution provides 50mg/mL of carprofen.
Important safety information
Important Safety Information: As with all drugs, side effects may occur. For subcutaneous use in dogs only. Serious adverse reactions associated with this drug class can occur without warning and in rare situations result in death. As a class, cyclooxygenase inhibitory NSAIDs may be associated with gastrointestinal, renal, and hepatic toxicity. Appropriate laboratory tests to establish hematological and serum biochemical baseline data prior to, and periodically during, administration of any NSAID should be considered. Concomitant use of Carprofen Sterile Injectable Solution with other anti-inflammatory drugs, such as other NSAIDs or corticosteroids, should be avoided. Owners should be advised to discontinue Carprofen Sterile Injectable Solution therapy and contact their veterinarian immediately if signs of intolerance are observed. Refer to the prescribing information for complete details or visit www.dechra-us.com.
Meloxicam Solution for Injection