Dechra Veterinary Products Announces their Sponsorship of the University of Pennsylvania Veterinary Working Dog Center Residency
Wednesday, August 5, 2020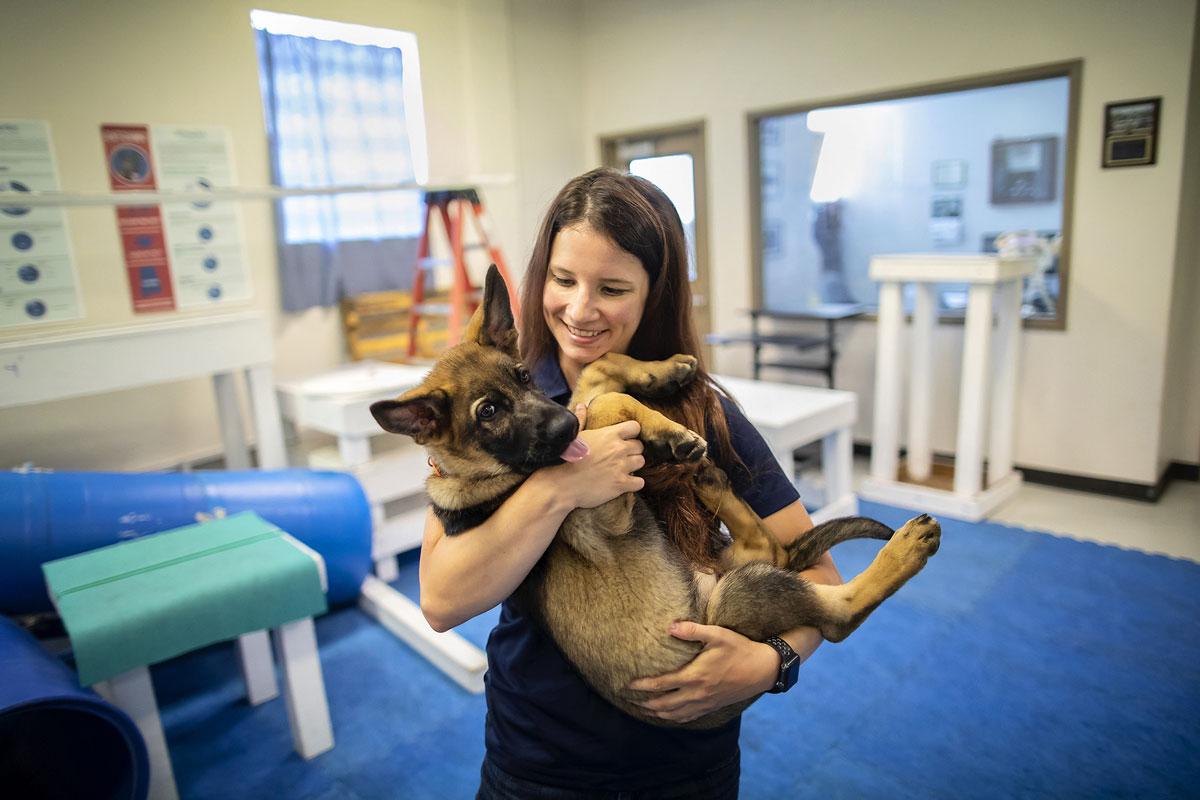 Dechra Veterinary Products is proud to announce their sponsorship of the Penn Vet Working Dog Center (PVWDC) canine sports medicine and rehabilitation residency for Dr. Meghan Ramos. This first-of-its-kind sponsorship will help to fund Dr. Ramos as she begins her three-year residency in July 2020. This unique partnership will also allow the center to continue their work on research, breeding, educational programs, and training of working dogs.
The canine sports medicine and rehabilitation residency program is governed by the American College of Veterinary Sports Medicine and Rehabilitation (ACVSMR). Similar to equine sports medicine, the topic of canine sports medicine as both a preventative and performance specialty has become a focal point in recent years. "I am excited and grateful for Dechra's support of this residency program," said Dr. Ramos. "This residency will provide myself, Dechra, and the PVWDC with the opportunity to be at the forefront of advancing canine sports medicine, which is essential for all dogs to become professional lifesavers or invaluable companions."
Dr. Meghan Ramos received her VMD in 2018 from the University of Pennsylvania School of Veterinary Medicine. Following graduation, Dr. Ramos began her veterinary specialty internship with the PVWDC while simultaneously pursuing a National Institutes of Health-funded Master in Translational Research through the Institute for Translational Medicine and Therapeutics at the University of Pennsylvania Perelman School of Medicine. Alongside Dr. Cynthia Otto, Dr. Ramos is dedicated to advancing the field of canine sports medicine via scientifically valid clinical trials and advanced diagnostics that will benefit not only our elite working dogs but will impact the canine community at large.
Inspired by the search and rescue dogs that responded following the attacks on 9/11, the PVWDC opened on Sept. 11, 2012. The PVWDC is an elite, internationally-renowned, canine research, training, and educational center. The PVWDC mission and research focuses on all facets of working dogs from canine physiology, development, genetics, behavior, and health to the future operational applications of medical detection, search and rescue, and law enforcement dogs in global health and security.
Dechra began their partnership with PVWDC as sponsors of the Citizen Science Program through their Phycox® product line. This program, co-founded and led by Dr. Ramos, allows local citizens to train their personal dogs in scent detection and then participate in the PVWDC's various medical detection research studies, such as the detection of ovarian cancer, bacterial biofilms, or other human medical diseases.
Both Dr. Ramos and Dr. Otto have a vision of continuing to grow the PVWDC as a premier breeding, training, and educational center for working dogs of all kinds and they have dreams of establishing a full-service working dog specialty within Penn Vet's Ryan Hospital.
Dechra feels that sponsoring this residency aligns with the core values of the company: Dedication, Enjoyment, Courage, Honesty, Relationships and Ambition.
Dechra Veterinary Products offers a full line of products for joint support and pain management including Phycox® Joint Supplement Soft Chews and Carprovet® (carprofen) Caplets, Chewable Tablets and Flavored Tablets.
Contact:
Shelly Derks
Marketing Manager
shelly.derks@dechra.com
www.dechra-us.com
Phycox is a registered trademark of Dechra Limited