Dexmedesed® (dexmedetomidine hydrochloride) Sterile Injectable Solution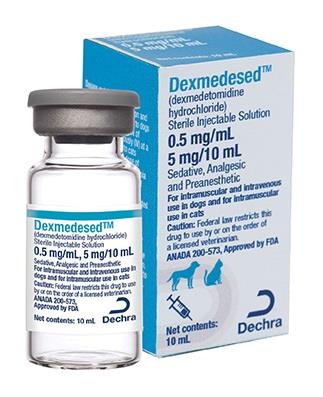 Dexmedesed® is indicated for use as a sedative and analgesic in dogs and cats to facilitate clinical examinations, clinical procedures, minor surgical procedures, and minor dental procedures. Dexmedesed® is also indicated for use as a preanesthetic to general anesthesia in dogs and cats. Dexmedesed® provides 0.5 mg/mL of dexmedetomidine hydrochloride and is available in 10 mL vials.
Important safety information
As with all drugs, side effects may occur. Do not use Dexmedesed in dogs or cats with cardiovascular disease, respiratory disorders, liver or kidney diseases, or in conditions of shock, severe debilitation, or stress due to extreme heat, cold or fatigue. As with all alpha2-adrenoreceptor agonists, the potential for isolated cases of hypersensitivity, including excitation, exists. The following adverse reactions have been reported: death, cardiac arrest, bradycardia, apnea, and vomiting. The use of Dexmedesed as a preanesthetic in dogs and cats significantly reduces the amount of induction and maintenance anesthetic requirements. In cats, severe dyspnea and respiratory crackles diagnosed as acute pulmonary edema could develop. Refer to the prescribing information for complete details.
Other Anesthetics/Analgesics
Ketamine Hydrochloride Injection
Tilzolan® (tiletamine and zolazepam for injection)