Carprovet® (carprofen tablets) Caplets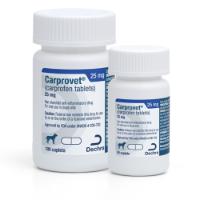 Carprovet® (carprofen tablets) Caplets 25mg
keyboard_arrow_right
Carprovet® (carprofen tablets) Caplets 75mg
keyboard_arrow_right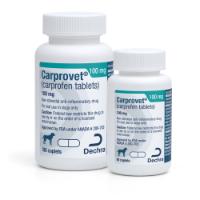 Carprovet® (carprofen tablets) Caplets 100mg
keyboard_arrow_right
Carprovet Caplets are indicated for the relief of pain and inflammation associated with osteoarthritis and for the control of postoperative pain associated with soft tissue and orthopedic surgeries in dogs.
Important safety information
As with other NSAIDs, signs of carprofen intolerance may include appetite loss, vomiting and diarrhea, which could indicate side effects involving the digestive tract, liver or kidneys. Some of these side effects, in rare situations, may be serious, resulting in hospitalization or even death. Pet owners should be advised to discontinue treatment if side effects occur and contact their veterinarian. Concomitant use of carprofen with other anti‐inflammatory drugs, such as other NSAIDs or corticosteroids, should be avoided because of the potential increase of adverse reactions. Refer to the prescribing information and "Dog Owner Information Sheet" for complete details or visit www.dechra-us.com.