Enroquin® (enrofloxacin) Antibacterial Injectable Solution 2.27%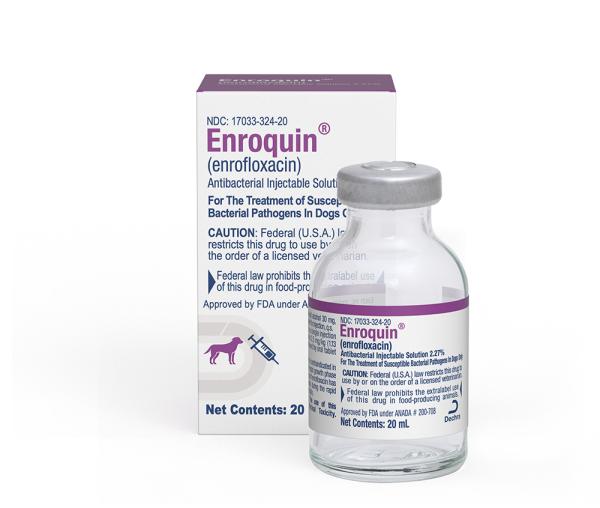 Enroquin® Antibacterial Injectable Solution 2.27% is indicated for the management of diseases in dogs associated with bacteria susceptible to enrofloxacin. 
Important safety information
As with all drugs, side effects may occur. For use in dogs only. Federal law prohibits the extra label use of this drug in food producing animals. Quinolone-class drugs should be used with caution in animals with known or suspected central nervous system (CNS) disorders. In such animals, quinolones have, in rare instances, been associated with CNS stimulation which may lead to convulsive seizures. Enrofloxacin is contraindicated in dogs known to be hypersensitive to quinolones. Quinolone-class drugs have been associated with cartilage erosions in weight-bearing joints and other forms of arthropathy in immature animals of various species. The use of enrofloxacin is contraindicated in small and medium breed dogs during the rapid growth phase (between 2 and 8 months of age). The safe use of enrofloxacin has not been established in large and giant breeds during the rapid growth phase. The use of this product in cats may result in retinal toxicity. Refer to the prescribing information for complete details or visit www.dechra-us.com.