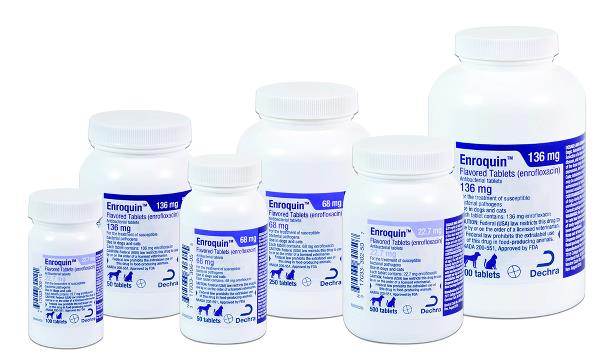 INDICATIONS: Enroquin Flavored Tablets (enrofloxacin) are indicated for the management of diseases associated with bacteria susceptible to enrofloxacin.  Enroquin Flavored Tablets are indicated for use in dogs and cats.
Important safety information
As with all drugs, side effects may occur. In rare instances, use of this product in cats has been associated with Retinal Toxicity. Dosage should not exceed 5 mg/kg of body weight once daily in cats. Enroquin is contraindicated in dogs and cats known to be hypersensitive to quinolones. The following adverse reactions have been reported: vomiting and diarrhea. In rare instances, anorexia, elevated liver enzymes, ataxia, seizures, depression, lethargy and nervousness have also been reported. Federal law prohibits the extralabel use of this drug in food-producing animals. Refer to the prescribing information for complete detail.
Shop for this Product with Dechra Rewards