EUTHAPHEN™ (Euthanasia Solution)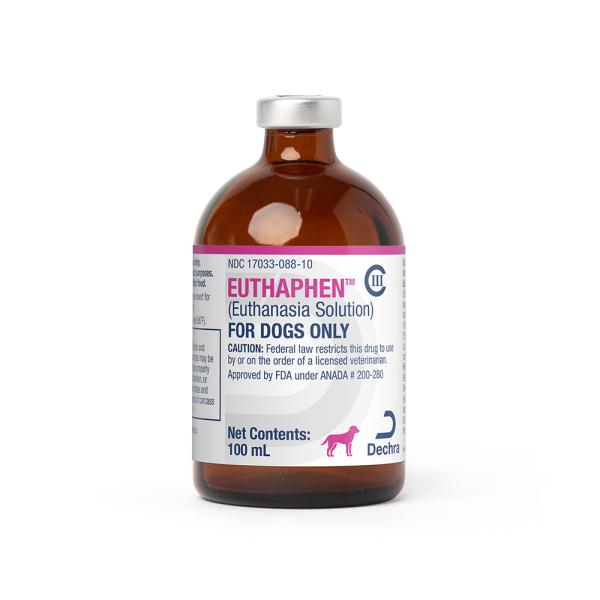 A Class III controlled substance, EUTHAPHEN™ (Euthanasia Solution) is for use in dogs for humane, painless and rapid euthanasia. It is a non-sterile solution containing pentobarbital sodium and phenytoin sodium as the active ingredients. Available in 100 mL multiple-dose vials, each mL contains 390 mg pentobarbital sodium and 50 mg phenytoin sodium. Rhodamine B, a bluish-red fluorescent dye, is included in the formulation to help distinguish it from parenteral drugs intended for therapeutic use.
Dosage: 1 mL for each 10 pounds of body weight
Administration: Intravenous injection is preferred. Intracardiac injection may be made when intravenous injection is impractical.
Important safety information
For canine euthanasia only. Must not be used for therapeutic purposes. Do not use in animals intended for food. Keep out of reach of children. If eye contact, flush eyes with water and seek medical attention. Caution should be exercised to avoid contact of the drug with open wounds or accidental self-inflicted injections. Euthanasia may sometimes be delayed in dogs with severe cardiac or circulatory deficiencies.
ENVIRONMENTAL HAZARD: This product is toxic to wildlife. Birds and mammals feeding on treated animals may be killed. Euthanized animals must be properly disposed of by deep burial, incineration, or other method in compliance with state and local laws, to prevent consumption of carcass material by scavenging wildlife.​​
Refer to the prescribing information for complete details or visit www.dechra-us.com