Isospire™ (isoflurane) Inhalation Anesthetic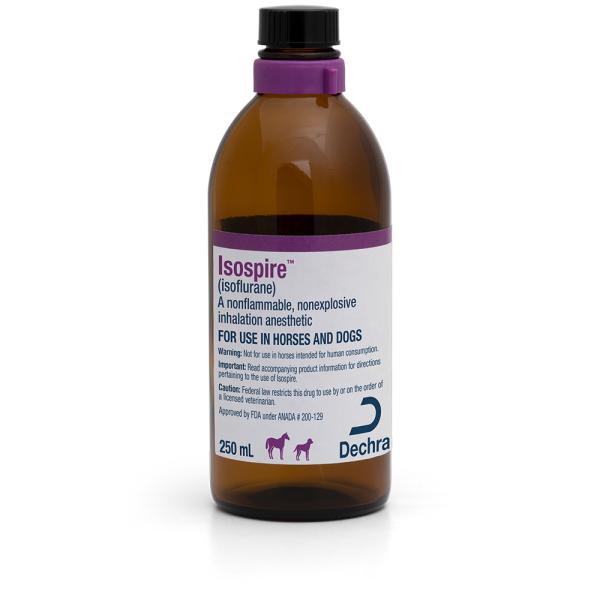 Isospire™ (isoflurane) Inhalation Anesthetic is used for induction and maintenance of general anesthesia in horses and dogs. It is a clear, colorless, stable liquid containing no additives or chemical stabilizers. Nonflammable and nonexplosive, Isospire™ is only for use with a precision vaporizer calibrated for isoflurane. Available in 250 mL amber-colored bottles, with each mL containing 99.9% isoflurane.
Important safety information
As with all drugs, side effects may occur. Isospire is contraindicated in horses and dogs with known sensitivity to isoflurane or to other halogenated agents. Isoflurane is a profound respiratory depressant. RESPIRATION MUST BE MONITORED CLOSELY IN THE HORSE and DOG AND SUPPORTED WHEN NECESSARY. Operating rooms should be provided with adequate ventilation to prevent the accumulation of anesthetic vapors. To avoid production of carbon monoxide, isoflurane should not be passed through desiccated soda lime or barium hydroxide lime. Hypotension, respiratory depression and arrhythmias have been reported. Refer to the prescribing information for complete details.