Osurnia® (florfenicol, terbinafine, betamethasone acetate)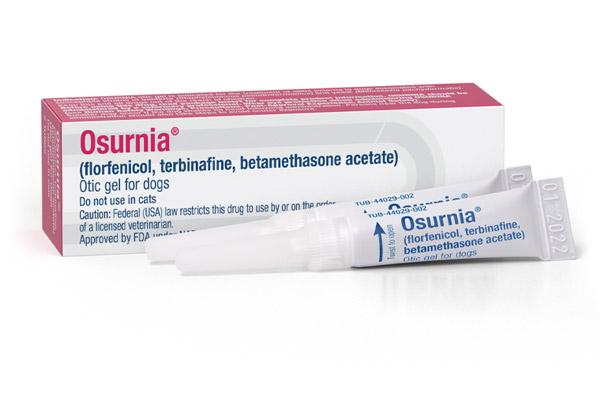 Osurnia is indicated for the treatment of otitis externa in dogs associated with susceptible strains of bacteria (Staphylococcus pseudintermedius) and yeast (Malassezia pachydermatitis).
Important safety information
As with all drugs, side effects may occur. In a field study and post-approval experience the most common adverse reactions reported were vomiting, increased liver enzymes and loss of hearing. Other adverse events reported post-approval are ear discharge, ear irritation and pain, head shaking, head tilt, ataxia, vocalization, corneal ulcer, keratoconjunctivitis sicca, nystagmus, tympanic rupture, and facial paralysis.
OSURNIA® should be administered by a veterinary professional. Do not use in dogs with known tympanic perforation or a hypersensitivity to florfenicol, terbinafine or corticosteroids. OSURNIA may cause eye injury and irritation. Wear eye protection when administering OSURNIA and restrain the dog to minimize post-application head shaking. Do not use in cats. Refer to the prescribing information for complete details or visit www.dechra‐us.com.