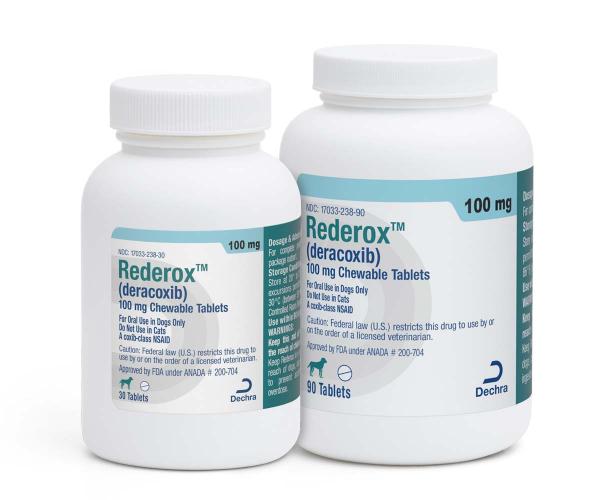 Rederox Chewable Tablets are beef-flavored, scored tablets, indicated for the control of pain and inflammation due to osteoarthritis, or following orthopedic or dental surgery, in dogs.
Important safety information
Not for use in humans. For use in dogs only. Do not use in cats. Keep this and all medication out of reach of children and pets. Store out of reach of dogs and other pets in a secured location in order to prevent accidental ingestion or overdose. As with all drugs in this class, side effects involving the digestive system (vomiting, decreased appetite, and diarrhea), kidneys or liver may occur. Some of these side effects, in rare situations, may be serious, resulting in hospitalization or even death. Pet owners should be advised to discontinue treatment if side effects occur and contact their veterinarian. All dogs should undergo a thorough history and physical examination before using Rederox. Inaccurate dosing may result in adverse drug events. Regular monitoring is recommended. Use with other NSAIDs or corticosteroids should be avoided. Refer to the prescribing information and "Dog Owner Information Sheet" for complete details or visit www.dechra-us.com.
Dechra is a registered trademark of Dechra Pharmaceuticals PLC.
Rederox is a trademark of Dechra Veterinary Products, LLC.