Vetropolycin® HC (bacitracin-neomycin-polymyxin-hydrocortisone acetate 1%) Veterinary Ophthalmic Ointment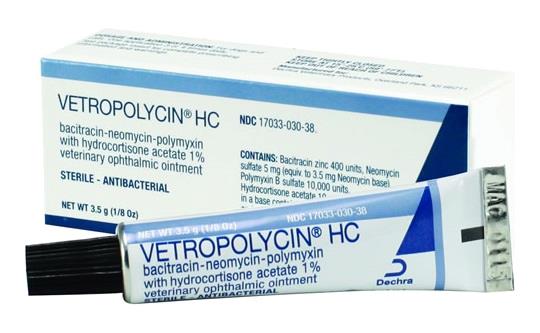 Vetropolycin® HC Ointment
For use in: cats and dogs
Used in acute or chronic conjunctivitis when caused by organisms susceptible to the antibiotics contained in this ointment.
| | |
| --- | --- |
| Active(s)/Ingredient(s): | Each gram contains Bacitracin Zinc 400 units, Neomycin Sulfate 5 mg (equivalent to 3.5 mg of Neomycin base), Polymyxin B Sulfate 10,000 units, Hydrocortisone Acetate 10 mg (1%), in a base of White Petrolatum and Mineral Oil |
| Pack size(s): | 3.5g |
| Documents: | Package insert get_app SDS get_app |
Important safety information
As with all drugs, side effects may occur. In field studies, the most common side effects reported were ocular itching, burning, or inflammation in animals sensitive to the product. This product is not for use in animals with corneal ulcers, fungal infections, or viral infections. Prolonged use may result in the overgrowth of non‐susceptible organisms including fungi. Patients should be monitored for signs of corticosteroid overdose. The safe use of this product has not been evaluated in pregnant animals. Serious hypersensitivity (anaphylactic) reactions have been reported in cats within 4 hours of application of antibiotic ophthalmic preparations. Some of these reactions have resulted in death. Refer to the prescribing information for compete details.
Other Ophthalmic Products
Puralube® Ophthalmic Ointment
Vetropolycin® (bacitracin-neomycin-polymyxin) Veterinary Ophthalmic Ointment