Ivermectin Paste 1.87% (ivermectin paste)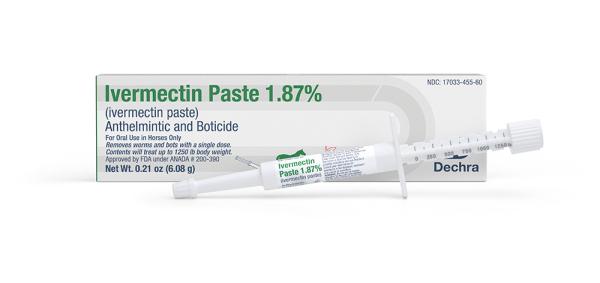 Effective against large strongyles, small strongyles, pinworms, ascarids, hairworms, large-mouth stomach worms, bots, lungworms, intestinal threadworms, summer sores and dermatitis
Potent antiparasitic agent
Contents will treat up to 1250 lb body weight
Apple flavored
Broad-spectrum Control. Ivermectin Paste 1.87% kills important internal parasites, including bots and the arterial stages of S. Vulgaris with a single dose
Safe to use in horses of all ages including mares at any stage of pregnancy and safe for stallion fertility.
Consult your veterinarian for assistance in the diagnosis, treatment, and control of parasitism
 Do not use in horses intended for human consumption.