Sucromate® Equine (deslorelin acetate) Sterile Suspension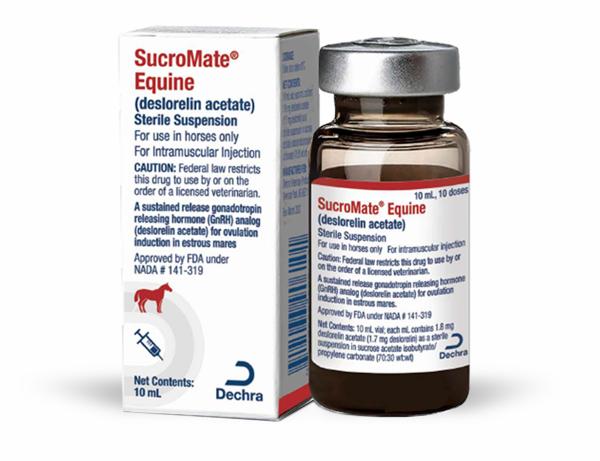 Sucromate Equine is indicated for inducing ovulation within 48 hours of treatment in cyclic estrous mares with an ovarian follicle between 30 and 40 mm in diameter.
Sucromate Equine is a sterile, synthetic gonadotropin-releasing hormone (GnRH) analog suspension. Sucromate Equine is a sustained release formulation that forms an in situ gel upon intramuscular injection. Deslorelin acetate is [6-D-tryptophan-9-(N-ethyl-L-prolinamide)-10-deglycinamide)] GnRH. 
Important safety information
As with all drugs, side effects may occur. For use in horses (estrous mares) only. Not for use in humans. Pregnant women and women of childbearing age should exercise caution when handling this product as accidental administration may lead to disruption of the menstrual cycle. For intramuscular (IM) use only. Do not administer intravascularly. SucroMate Equine (deslorelin acetate) should not be given more frequently than once in a heat cycle. Injection site swelling was observed following administration. All injection site swellings resolved within 5 days of administration. Please see product insert for full prescribing information or visit www.dechra-us.com.​
Sucromate​™ is a trademark of Thorn Biosciences, LLC