Felimazole® Coated Tablets (methimazole tablets)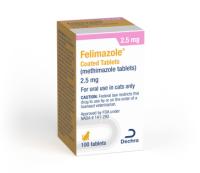 Felimazole® Coated Tablets (methimazole tablets) 2.5mg
keyboard_arrow_right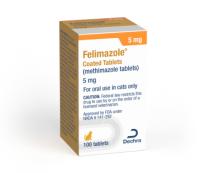 Felimazole® Coated Tablets (methimazole tablets) 5mg
keyboard_arrow_right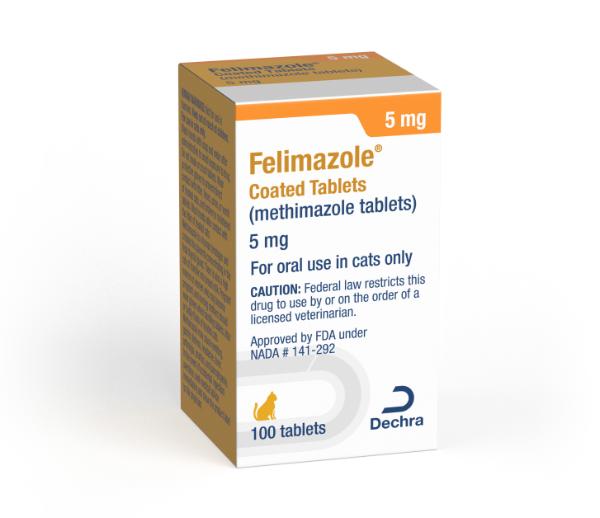 For use in: cats
Felimazole® Coated Tablets (methimazole tablets) are indicated for the treatment of hyperthyroidism in cats.
Important safety information
CAUTION: As with all drugs, side effects may occur. The most commonly reported side effects are anorexia, vomiting, head/facial pruritus or edema, depression/lethargy, weight loss, anemia, elevated liver enzymes, skin lesions, elevated BUN, diarrhea, and thrombocytopenia. Felimazole® Coated Tablets are not for use in pregnant or lactating queens, or cats with renal, hepatic, or hematological disorders. In some reported cases, the patients recovered after adverse signs were recognized, the drug was withdrawn, and veterinary care was applied. In some cases, death (or euthanasia) has been reported as an outcome of the adverse reactions listed above. Methimazole has anti‐vitamin K activity and may induce bleeding diathesis without evidence of thrombocytopenia. Refer to the prescribing information for complete details or visit www.dechra‐us.com.

Felimazole is a registered trademark of Dechra Limited.
Zycortal® Suspension (desoxycorticosterone pivalate injectable suspension)