Muricin® (mupirocin ointment) 2%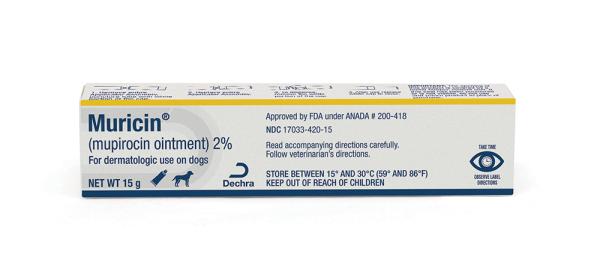 For use in: dogs
An ointment indicated for the topical treatment of canine bacterial infections of the skin, including superficial pyoderma, caused by susceptible strains of Staphylococcus aureus and Staphylococcus intermedius.
Important safety information
As with all drugs, side effects may occur. For dermatologic use on dogs. Muricin Ointment is not for ophthalmic use. Safety in pregnant or breeding animals has not been determined. Due to the potential hazard for nephrotoxicity due to polyethylene glycol content of the product base, exercise care when using for extensive deep lesions where absorption of large quantities of polyethylene glycol is possible. Refer to the prescribing information for complete details or visit www.dechra‐us.com.
Other topical Antibiotics
GentaCalm® Topical Spray (gentamicin sulfate, USP with betamethasone valerate, USP)