GentaCalm® Topical Spray (gentamicin sulfate, USP with betamethasone valerate, USP)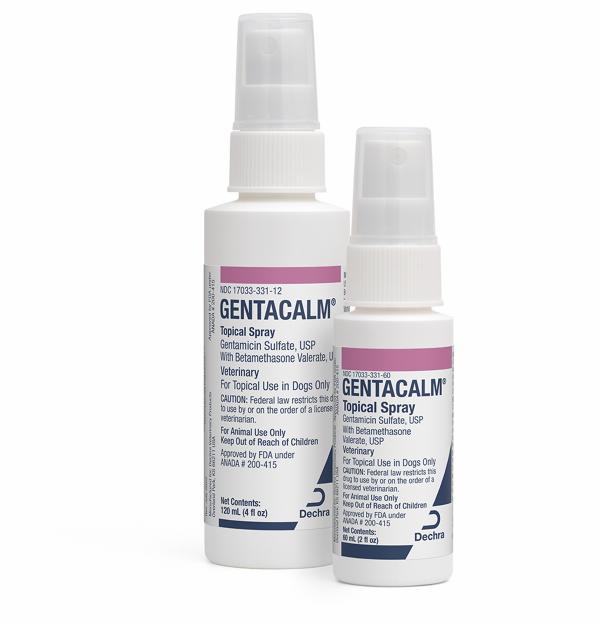 For use in: dogs
For the treatment of infected superficial lesions in dogs caused by bacteria susceptible to gentamicin.
Important safety information
As with all drugs, side effects may occur. For topical use in dogs only. SAP and SGPT (ALT) enzyme elevations, weight loss, anorexia, polydipsia and polyuria, vomiting and diarrhea (occasionally bloody) been observed following parenteral or systemic use of synthetic corticosteroids in dogs. Cushing's syndrome has been reported in association with prolonged or repeated steroid therapy in dogs. Prolonged use or overdosage may produce adverse immunosuppressive effects. Use with caution in pregnant dogs as clinical and experimental data have demonstrated that corticosteroids administered orally or parenterally to animals may induce the first stage of parturition when administered during the last trimester of pregnancy and may precipitate premature parturition followed by dystocia, fetal death, retained placenta and metritis. Additionally, corticosteroids administered to dogs, rabbits and rodents during pregnancy have produced cleft palate, and other congenital anomalies have been reported in offspring of dogs which received corticosteroids during pregnancy. Refer to the prescribing information for complete details or visit www.dechra‐us.com.
Other topical Antibiotics
Animax® Ointment (nystatin-neomycin sulfate-thiostrepton-triamcinolone acetonide ointment)
Muricin® (mupirocin ointment) 2%