Equidone® Gel (domperidone)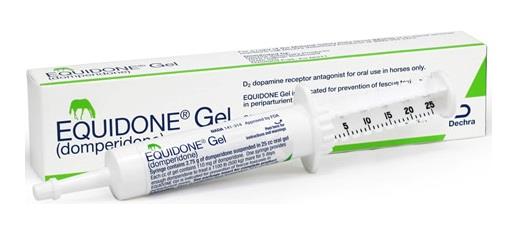 For use in: horses
For prevention of fescue toxicosis in periparturient mares.
| | |
| --- | --- |
| Active(s)/Ingredient(s): | EQUIDONE Gel is supplied in disposable, multi-dose, 25 cc syringes, each containing 2.75 g of domperidone suspended in an oral gel. Each cc of gel contains 110 mg of domperidone. |
| Pack size(s): | 25ml |
| Documents: | Package insert get_app SDS get_app |
Important safety information
As with all drugs, side effects may occur. In field studies, the most common side effects reported were premature lactation (dripping of milk prior to foaling) and failure of passive transfer. EQUIDONE Gel may lead to premature birth, low birth weight foals or foal morbidity if administered >15 days prior to the expected foaling date. Do not use in horses with suspected or confirmed gastrointestinal blockage, as domperidone is a prokinetic drug (it stimulates gut motility). Refer to the prescribing information for complete details.
Osphos® (clodronate injection)