Osphos® (clodronate injection)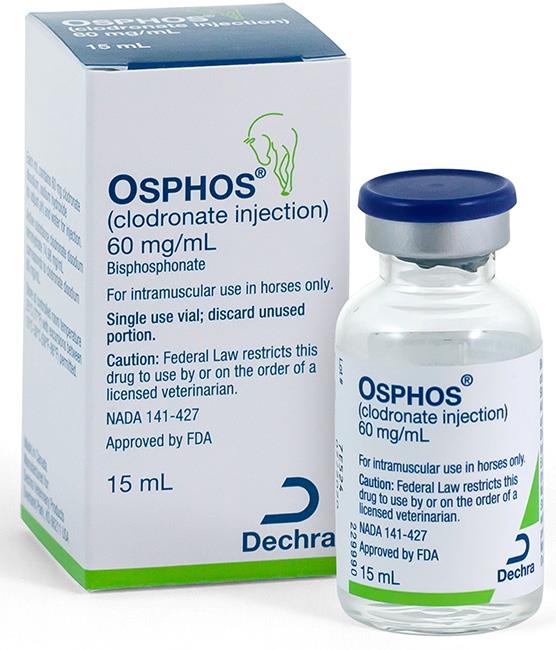 For use in: horses
OSPHOS is an injectable bisphosphonate solution for the control of clinical signs associated with navicular syndrome in horses four years and older.
Important safety information
As with all drugs, side effects may occur. For intramuscular use in horses only. Do not use in horses intended for human consumption. Do not use in horses with impaired renal function or with a history of renal disease. NSAIDs should not be used concurrently with OSPHOS. Concurrent use of NSAIDs with OSPHOS may increase the risk of renal toxicity and acute renal failure. Use of OSPHOS in patients with conditions affecting renal function or mineral or electrolyte homeostasis is not recommended. In field studies and post‐approval experience the most common side effects reported were signs of discomfort, nervousness, and colic. Other signs reported were: renal failure, polyuria, polydipsia, anorexia, lethargy, hypercalcemia, behavioral disorder, hyperkalemia, hyperactivity, recumbency, hyperthermia, injection site reactions, muscle tremor, urticaria, hyperglycemia, and fracture. In some cases, death has been reported as an outcome of these adverse events. The safe use of OSPHOS has not been evaluated in horses less than 4 years of age or breeding horses. Bisphosphonates should not be used in pregnant or lactating mares, or mares intended for breeding. Refer to the prescribing information for complete details or visit www.dechra‐us.com.
Equidone® Gel (domperidone)