ANIMAX® Ointment (nystatin-neomycin sulfate-thiostrepton-triamcinolone acetonide)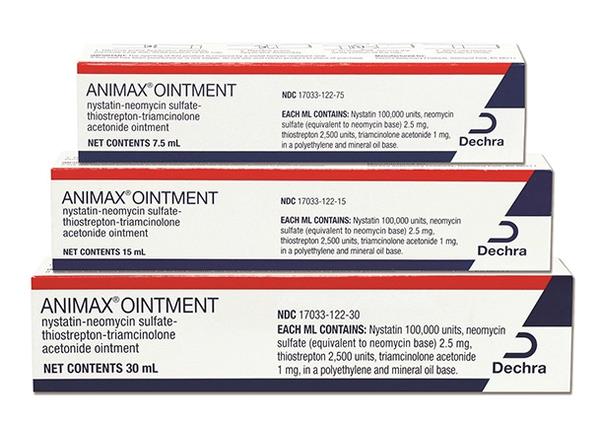 INDICATIONS
ANIMAX Ointment is particularly useful in the treatment of acute and chronic otitis of varied etiologies, in interdigital cysts in cats and dogs and in anal gland infections in dogs. The preparation is also indicated in the management of dermatologic disorders characterized by inflammation and dry or exudative dermatitis, particularly those caused, complicated, or threatened by bacterial or candidal (Candida albicans) infections. It is also of value in eczematous dermatitis, contact dermatitis, and seborrheic dermatitis; and as an adjunct in the treatment of dermatitis due to parasitic infestation.
| | |
| --- | --- |
| Active(s)/Ingredient(s): | Nystatin, neomycin sulfate, thiostrepton, triamcinolone acetonide |
| Pack size(s): | 7.5ml, 15ml, 30ml |
| Documents: | Package insert get_app SDS get_app |
Important safety information
CAUTION: Federal law restricts this drug to use by or on the order of a licensed veterinarian. As with all drugs, side effects may occur. Hearing loss, with varying degrees of recovery, has been reported with the use of ANIMAX Ointment. If hearing dysfunction is noted during the course of treatment with ANIMAX Ointment, discontinue its use. SAP and SGPT (ALT) enzyme elevations, polydipsia and polyuria, vomiting, and diarrhea (occasionally bloody) have been observed following parenteral or systemic use of synthetic corticosteroids in dogs. Cushing's syndrome has been reported in association with prolonged or repeated steroid therapy in dogs. Refer to the prescribing information for complete details.
Other Topical Antibiotics
GentaCalm® Topical Spray (gentamicin sulfate and betamethasone valerate)
Muricin® (mupirocin ointment 2%)